UDLAP offers on-campus housing to all students. There are 4 residence halls at UDLAP: Cain Murray, Ray Lindley, Ignacio Bernal and José Gaos.
All dorms have a 24-hour reception, secure swipe-card entry system.
Dorms are divided into suites with between 4-8 students that share each suite. All suites are equipped with a shared kitchen, living area, toilet/shower facilities, and a washer/dryer. There is a television with cable in each living room, and all suites have wireless Internet included.  There is a daily cleaning service provided for all common areas (kitchen, dining, living and bathrooms).  Please note that kitchen utensils and linens will not be provided. 
Example of two Dorm suites each with 3 shared rooms and 1 single room: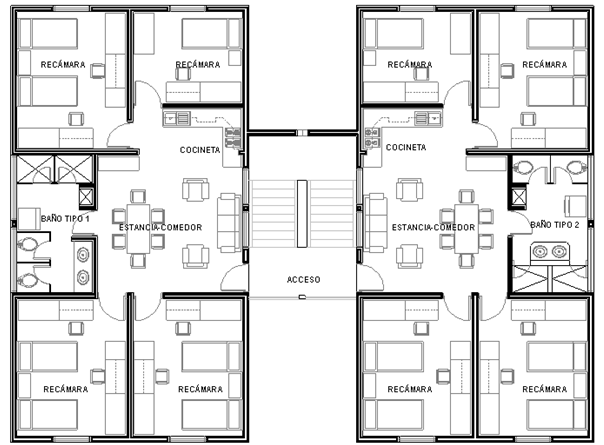 Once a dormitory reservation has been made, it cannot be cancelled and housing deposits will not be refunded.
For more information about the Residential Colleges please check: http://www.udlap.mx/internas/alojamiento.aspx?idioma=2 or contact colegios.univeristarios@udlap.mx.
IMPORTANT: Prices vary each semester and Off-campus housing is also available.