Universidad de las Américas Puebla (UDLAP) shares information about its objectives and the level of its students' academic achievement indicators with its students, members and the public. Among these goals and indicators are retention rates, graduation and employability rates, as well as others related to its Mission. In December 2015, during the annual Southern Association of Colleges and Schools, Commission of Colleges (SACSCOC) meeting in Houston, Texas, UDLAP was re-accredited without recommendations for the 2015-2025 period.
Quality Academic Programs
In 2016, the Accreditation Board for Engineering and Technology (ABET) accredited the Bachelors in Civil Engineering, Industrial Engineering, Mechanical Engineering and Mechatronic Engineering. ABET is an organism whose purpose is to ensure the quality of university programs in the STEAM disciplines (Science, Technology, Engineering and Mathematics) which has accredited the excellence of engineering programs in 32 countries; once a program is accredited, the standards of teaching quality in this area are guaranteed. Additionally, in September 2018, ABET accredited the Bachelors in Chemical Engineering and Food Industry Engineering; the latter also obtained accreditation from the International Food Technologists (IFT) for the 2015-2020 period. Currently, 50% of the programs in the School of Engineering have international accreditation.
In 2018, the Bachelor in Biology obtained The Royal Society of Biology's Advanced International Accreditation and in 2019, The Royal Society of Chemistry accredited the Bachelor in Nanotechnology and Molecular Engineering. Both of these organisms are located in the United Kingdom, and UDLAP is the only university outside of the United Kingdom to obtain this international accreditation.
At the Master level, between August 2019 and February 2020, UDLAP obtained nine accreditations from the Interinstitutional Committees for the Evaluation of Higher Education (CIEES, for its Spanish acronym). Currently, of the 52 Bachelor programs offered by UDLAP, 49 are nationally accredited, and the remaining three programs have been newly created.
The PhDs in Creation and Culture Theories, Intelligent Systems, Water Sciences, Food Science and Molecular Biomedicine, have been recognized by the National Record of Quality Graduate Programs (PNPC, for its Spanish acronym) of Mexico's National Council of Science and Technology (CONACyT); in this way, 100% of our eligible PhDs have obtained this prestige.
Bachelor Programs – Eligible for Accreditation

Master Programs – Eligible for accreditation

Quality Enhancement Plan
As part of its continuous academic improvement plan, UDLAP periodically defines a Quality Enhancement Plan (QEP), focused on its students' performance and development. This plan has a 10-year duration and each new plan focuses on a specific aspect of the teaching-learning process.
The 2015-2025 plan is called Experinti@l UDLAP, and it focuses on strengthening Bachelor students' abilities to connect theory to practice, demonstrated by identifying and solving real problems or situations. It also contains a reflective component on their own abilities and the impact their solution proposals have on the context and themselves.
It is evaluated through two projects, each corresponding to a subject taken by all students: "Ethics for Sustainable Development" and "Practices in the Profession II". The former measures the students' ability to ground their theoretical knowledge by solving real problems or situations, while the latter is a reflection on their abilities and the impact of their decisions centered on the analysis, proposal and development of a solution.
Students of Excellence
The university has maintained its position in the academic world through the pertinence and quality of its study programs, offering a wide selection of academic programs, as well as cutting edge infrastructure, an excellent faculty, and a strong presence in culture and sports; it is a campus recognized as one of the most diverse and green of the region, with spaces in which any student may develop their activities safely. These are just some of the reasons for the increase in student enrollment, reaching around 10,000 students, of which 88% are enrolled in Bachelor programs, and 12% in graduate programs.
Total students in the Spring and Fall terms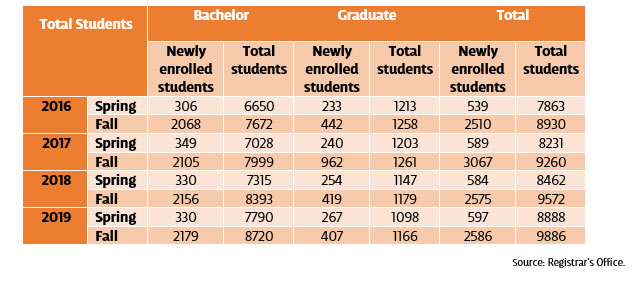 UDLAP has established actions to promote cultural diversity in its enrollment. By Fall 2019, new student enrollment for Bachelor programs was composed as follows: 46.9% of new students come from states such as Tlaxcala, Veracruz, Morelos, Hidalgo, Tabasco, Quintana Roo, Campeche, Baja California and Baja California Sur; while 48.1% of new students come from the state of Puebla, and 5% are foreign students.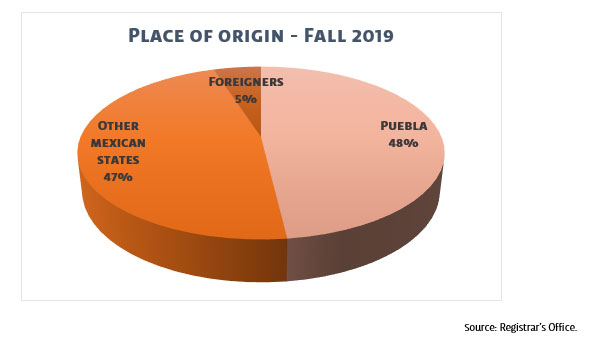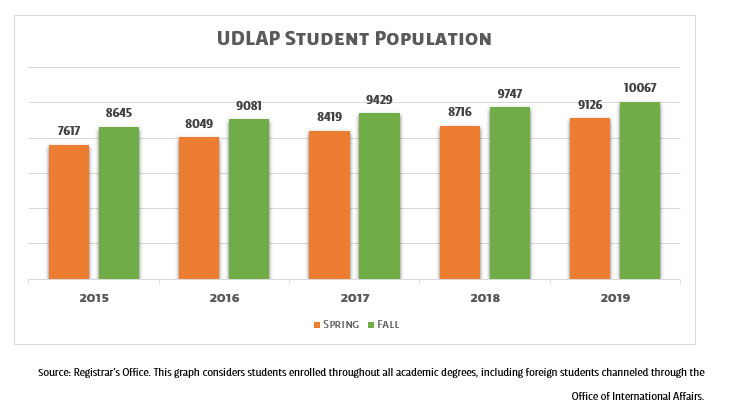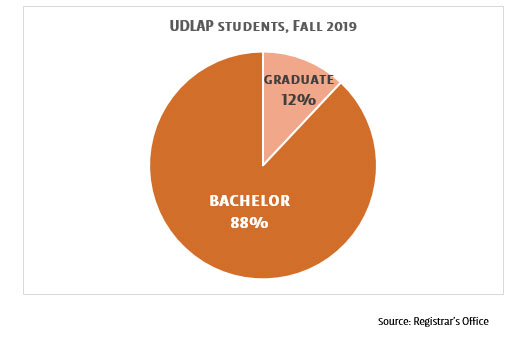 Full-time equivalent students for Fall terms

Full-Time equivalent bachelor and graduate students

Note 1: According to SACSCOC criteria, full-time equivalent bachelor students are those who take 12 or more bachelor Semester Credit Hours (SCH), plus the number resulting from the sum of all bachelor SCH taken by students coursing less than 12 bachelor SCH, divided by 12.
Note 2: According to SACSCOC criteria, full-time equivalent graduate students are those who take 9 or more graduate Semester Credit Hours (SHC), plus the number resulting from the sum of all SCH taken by students coursing less than 18 graduate SCH, divided by 9.
Prestigious Faculty
At the beginning of the 2018-2019 academic year, the university managed, for the first time in its history, to have over 650 professors in its roster. The rigorous selection process allowed it to hire over 98% with graduate degrees and over 60% with a terminal degree in their discipline. This allows it to have a faculty of academic excellence and a student-faculty ratio of 21 at the university, a number that falls into the proposed trajectory in the strategy to reach 15 students per faculty by the year 2023.
In 2018, over 20 members of our faculty did research stays or acted as visiting professors in universities in Germany, Bulgaria, China, Spain, the United States, France, Italy, Morocco, and the United Kingdom. Two stand out especially: the academic mobility program with Cambridge University in the United Kingdom, a unique program in Latin America; and the program with Rice University, an institution in which four members of our faculty are recognized today as Associate Researchers at that university's Baker Institute. Under the visiting professors program, this year we received over 30 professors who participated on campus giving courses, working on joint research projects with members of our faculty, and administering seminars addressed to the student community.
Our faculty credentials, academic and professional experience are validated by:
(i) 35% of our full-time faculty are members of the National Researchers System at CONACYT, which ranks us as the second private university in Mexico.
(ii) Our faculty is placed second in Mexico for academic quality, according to the Universal newspaper's "The Best Universities in Mexico, 2019" ranking.
Full-Time equivalent faculty
The ratio of students per professor, which was 21 students per professor and 24 students per section in Fall 2019 is a distinction of UDLAP's educational quality. As shown in the following table, most students enrolled in Spring 2018 are within the range of 21 to 30 students per section.
Student-Faculty ratio 2016-2019

Institutional class size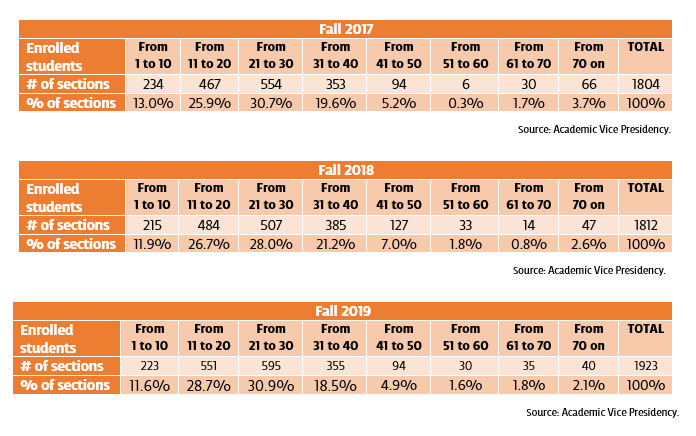 Integral Education and Multicultural Environment
UDLAP is an institution with a broad tradition in internationalization. It currently has over 200 standing international cooperation accords with different foreign institutions, which allows its students to participate in different mobility programs and schemes around the world and acquire different experiences, which will enrich their learning. Additionally, UDLAP strives to provide an international experience not only abroad, but also with in the classroom, for which it has designed different alternatives to bring international experiences (such as the successful Visiting Professors callout) to its campus.
The institution is constantly exploring possibilities for establishing new accords and awards with prestigious institutions around the world, deriving in not only traditional student exchanges, but also deeper cooperation in terms of research, cultural development, faculty and staff exchanges, among others, which allows it to contribute to the appropriate fulfilment of its Mission.
As part of its mission to contribute to integral education, the institution has several international accords, which allow students to participate in academic exchanges, internships and community service with different universities abroad.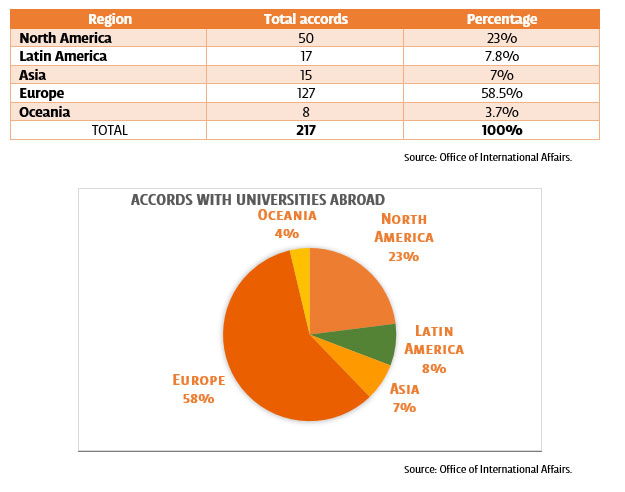 In the last five years, our students and students from associated institutions have increased their interest in utilizing the international programs offered by our institution.
In 2018-2019 we received over 400 foreign students on our campus and over 600 UDLAP students lived the international experiences; of those, over 60% choose to do so through an academic exchange. During that same year, we signed 10 new academic exchange deals, and 9 for interships abroad, in North America, Europe, the Middle East, and Asia. Consequently, we now hold accords with universities in 37 different countries.
UDLAP will continue to seek opportunities so more academic programs can offer double degrees, as well as a greater variety of international programs
Honors Program
The goal of the Honors Program is to encourage outstanding students to develop their research skills. The participants of this program complete a research or artistic creation project with the help and guidance of researchers and / or creators from the institution who stand out for their scholar/creative and leadership skills. Upon entering this program, each student is assigned to a faculty member to act as his or her mentor. The total number of participants has increased significantly since its launch.
The number of students who participate in this program has increased significantly since its creation in 2014, as shown in the following graph: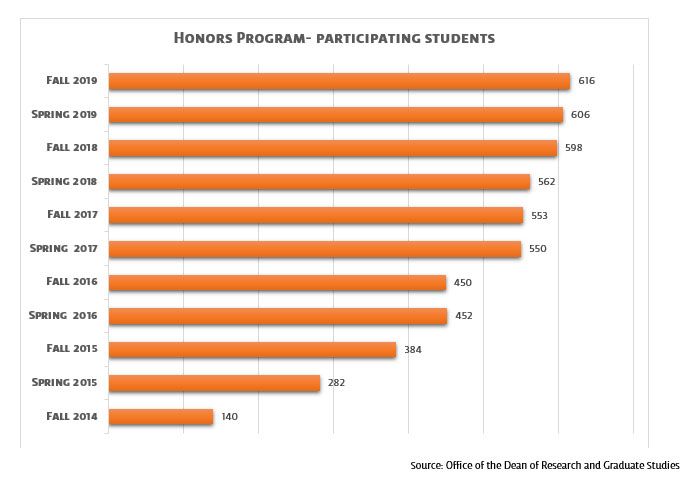 Cultural and Sporting UDLAP
UDLAP develops excellent students with a focus on integral education. To achieve this, some of their abilities are strengthened through co-curricular cultural, athletic, and intercultural activities, involvement in various student organizations, and social engagement. Our students display excellence not only in the academic world, but also in the sporting world, repeatedly winning championships or becoming sub champions on several representative teams.
Learning Resources
Academic Tutoring
UDLAP assigns each newly enrolled student an academic tutor. Tutors are full-time faculty belonging to the academic department in which the student is enrolled. A tutor's mission is to guide the student throughout their university trajectory with academic advice. Students are invited to attend meetings with their tutors three times per semester. In the last four years, the number of students attending academic tutoring per semester has been between 21 – 35%.
Proportion of students receiving academic tutoring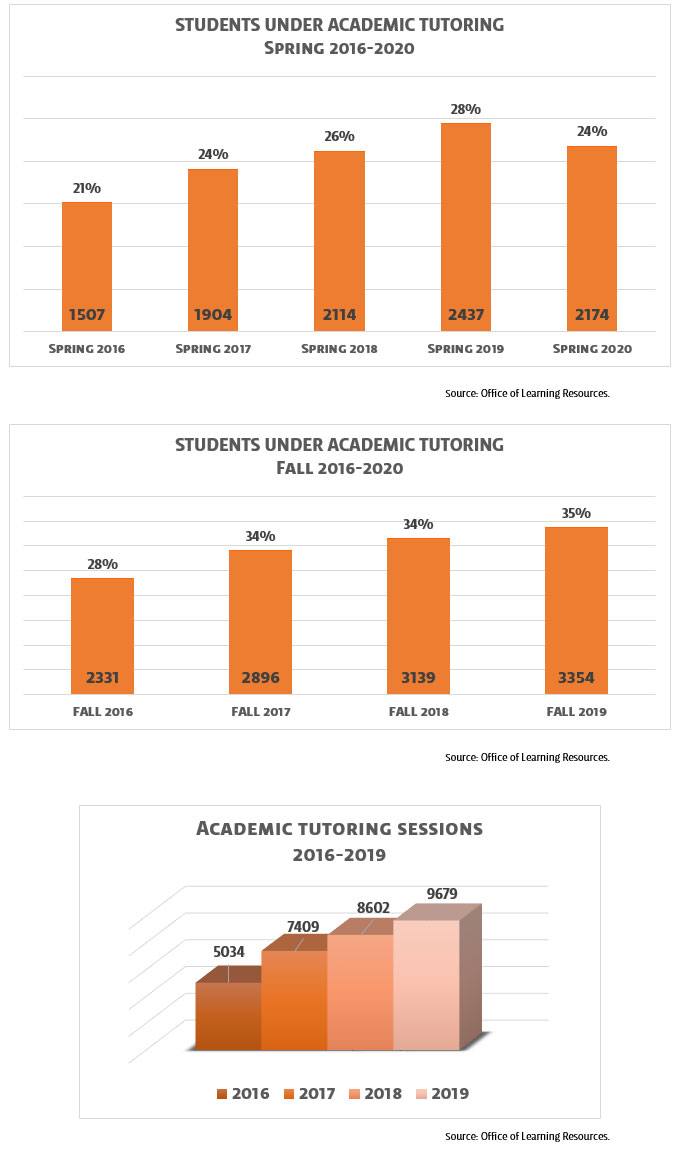 Learning Centers
The Language Learning Center (CAL for its Spanish acronym) gives advice to students on specific linguistic issues and create new knowledge tied to the competences related to learning a foreign language, such as oral production, written production, grammatical precision, oral comprehension or written comprehension.
The Math Learning Center (CMAT for its Spanish acronym) is a place where students may learn any level of mathematics, from the basics, up to obtaining a thorough understanding of advanced math. Math, as a field of knowledge, is a fundamental part of individual's education in different fields, particularly the social and scientific fields. One of the CMAT's goals is to offer workshops and conferences on math, as well as to apply math to diverse fields of knowledge directed towards our community.
The proliferation of new media for communicating knowledge, as well as the transformations undertaken in the social, cultural and scientific fields, are phenomena which have lead to a redefinition of language in education, hence a reconfiguration of writing as a representation of specialized or disciplinary discourses. Therefore, based on recent theoretical and methodological trends in language teaching, the Learning Center for Academic Writing and Critical Thinking (CAEAPC for its Spanish acronym) seeks to set the foundations for the integration of a learned community, in the sense that they may have the tools to manage academic and scientific discourse.
Learning Centers. Total attended students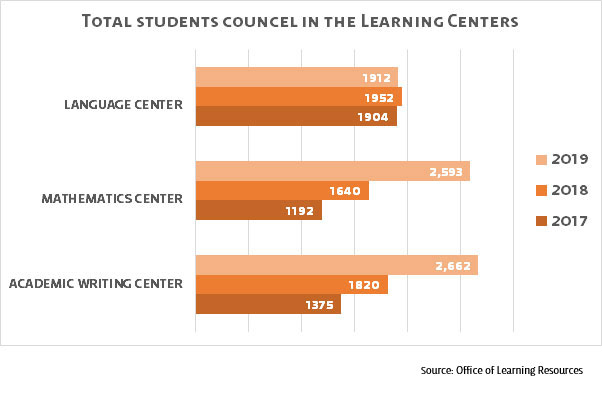 Service learning
In 2019, 1,874 students did social service and another 1,400 participated in social voluntary programs at 184 organizations, of which 29% are in the governmental sector, 7% are in the business sector, and 64% correspond to civil society organizations. The goal is to increase the UDLAP community's social commitment. UDLAP is also interested in making ties to external organizations through Social Responsibility and Inclusion programs. Furthermore, 16 days, 12 Saturdays and 4 Sundays, were spent in cooperation with four organizations working in recycling, reforestation, care package delivery, and free medical service programs.
Internships
Each year, the number of students who participate in internship programs increases. In 2019, a total of 2,223 carried out projects in different organizations, either public, private, or social.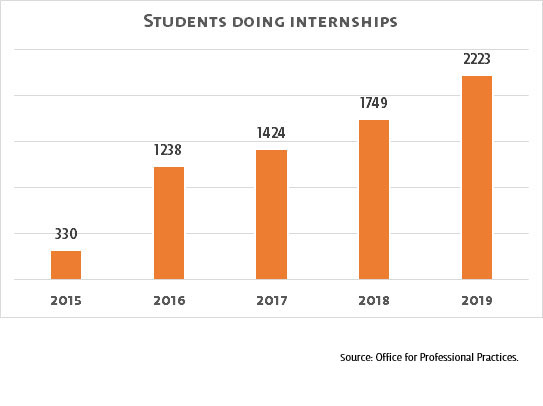 Bachelor student retention rates

Graduation rates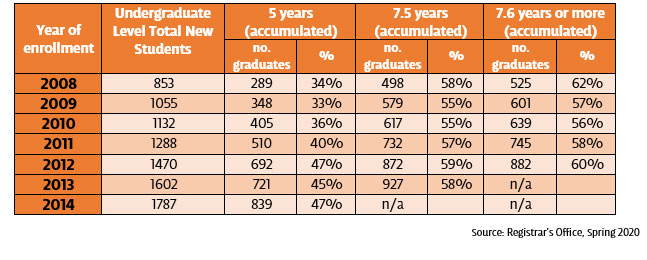 Graduates
UDLAP's cooperation with national and foreign public and private organisms offers the university's graduates access to one of the best job markets of any national university. The high rate of employability places UDLAP among the top three Mexican universities, according to the "QS Employability Ranking 2019" ranking.
96% of graduates have been hired or launched their own business during their first year after graduation.
90% of recent graduates mentioned doing activities related to their academic program.
85% consider that studying at UDLAP has positively influenced their hiring process.
Over 50% obtained a salary equal to or above the national average upon graduation.
1 year later, 85% have increased their income, overcoming the national average at the professional level.
9 out of 10 new UDLAP graduates receive at least 50% higher income than their colleagues from other universities.
96% of graduates are satisfied with the education they received at UDLAP.
90% of those surveyed indicated that they had mastered English, French or German.
95% recognize that the knowledge, skills and abilities they acquired and developed at UDLAP have been useful in their professional performance.
UDLAP graduate occupational status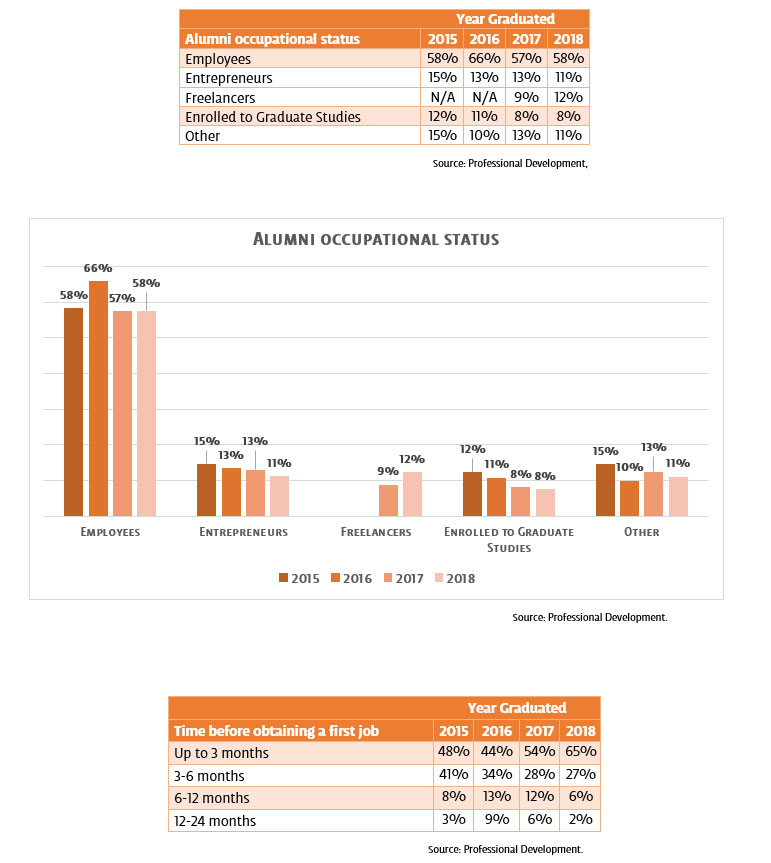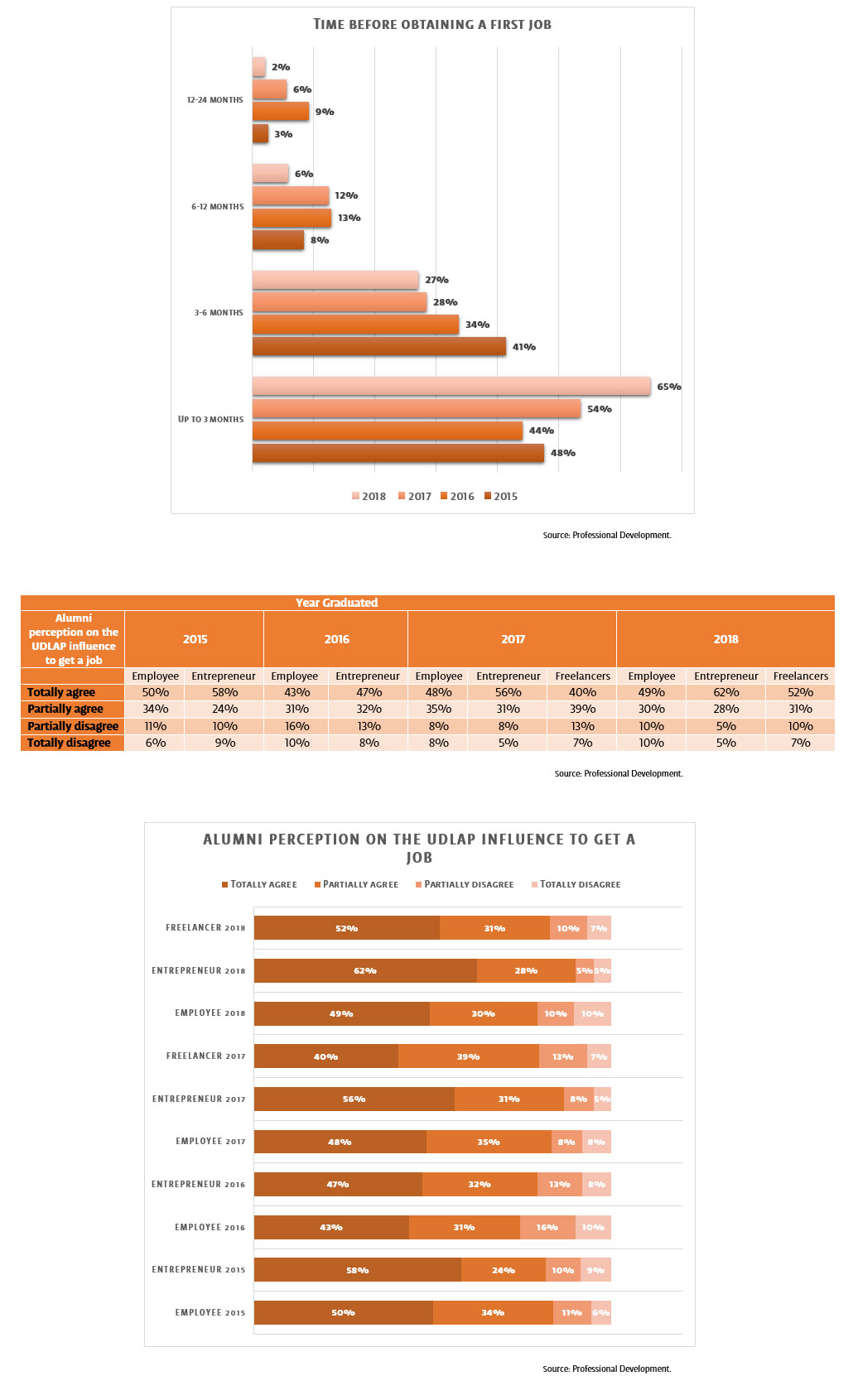 Average monthly income rate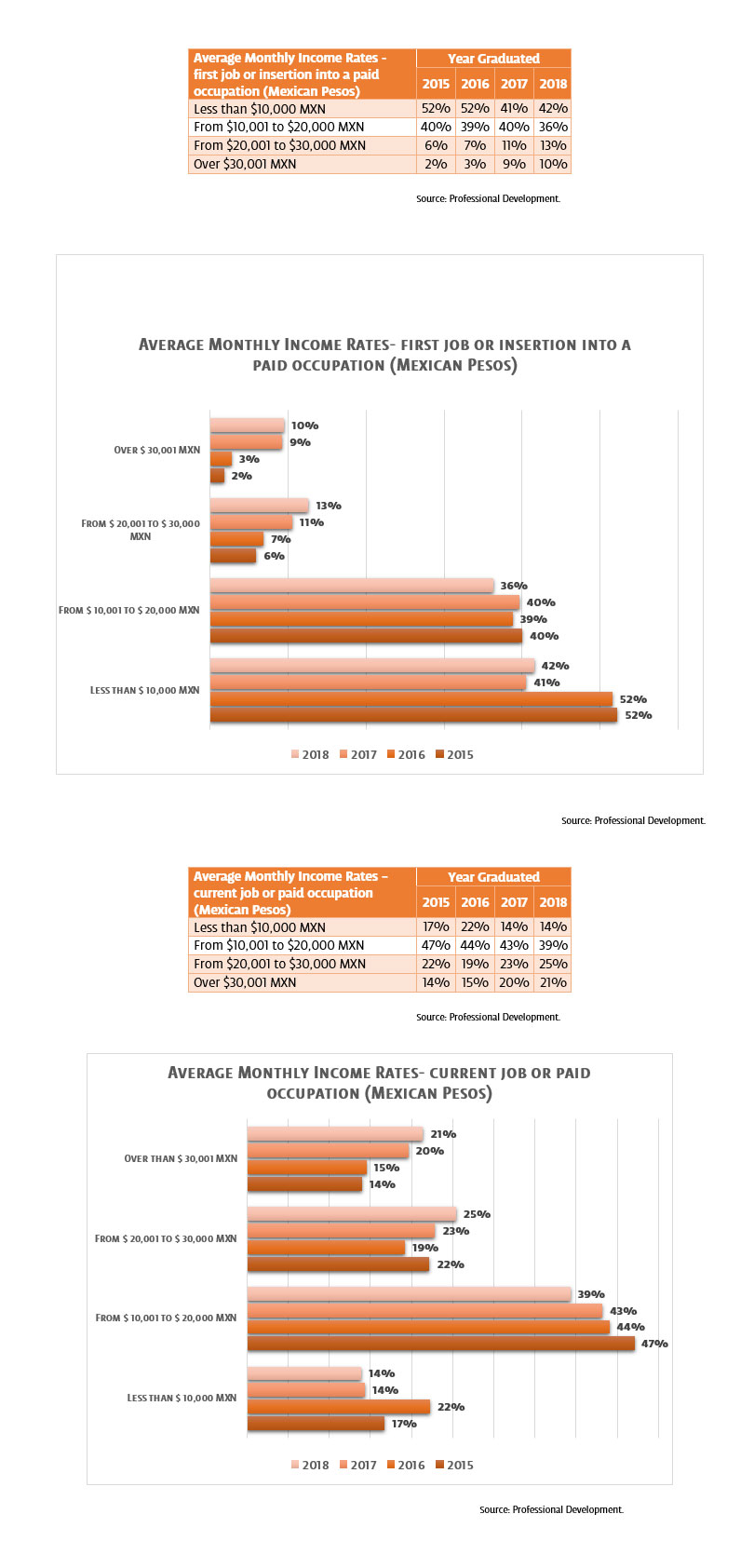 Note: All tables and graphs in this section are the result of an occupational study, which is a follow-up instrument for graduates one year after graduation.
The aforementioned information intends to provide a better perspective of UDLAP in terms of Student Achievement.
For further information on these matters, please contact Mr. Omar Valdiviezo (omar.valdiviezo@udlap.mx), Director of Institutional Effectiveness